ICELAND
They named her ZZ, the first two letters of her license plate, and she became their faithful sidekick and mobile home for the next few days. Nothing but open road (albeit narrow and sometimes winding) with her longest childhood friend. She made her listen to Sigur Ros and they daydreamed about their lives in a few years' time.
Giant marshmallows dotted the landscape as they drove past (they turned out to be hay bales wrapped in colourful plastics; common mistake, probably). They were constantly surprised by the changing terrain: waterfalls, glaciers, lush green peaks, volcanic rock. They hopped the fence to get a little closer to the horses. She whistled to them and the wind carried her trills high over the valley. The pale sky stretched for miles all around them and it felt like they could run forever. When it finally got dark, they stayed up late looking for shooting stars and made instant ramen on the portable stove. They were starving by the time it was done; damn thing took an hour.
One night they ended up in Hveragerdi, the flower town; steam rose out of the hills and hot springs were tucked away into the mountainside, hidden from tourists. They had pulled over to make dinner and as they struggled to keep the fire going, they met a dog named Skoulig (the owner described its meaning as "you know, a human name, like Steve"), and saw a woman walking her cat. Intrigued, they started talking and became fast friends. Unnur and her husband were week-old newlyweds; they shared stories and music and laughter over red wine and soon it became 2 am.
It was bittersweet to leave that place. They missed the northern lights by a day and couldn't even pretend not to be disappointed. It was even harder to leave strangers who become a part of your journey, but the transient connection just reminded her that maybe someday, they'd meet again.
MARRAKECH
"Just hold on," were Idriss' words, said with a sly grin. He was taking her to a performance where he and a friend were playing traditional African instruments. She was the only guest in the riad where Idriss worked; August was an off-season month for tourism.
It had been raining on and off, the uneven streets littered with a smattering of puddles, stray cats hiding under alcoves. She climbed on the back of his motorcycle and they took off. In the medina, they zipped through a labyrinth of narrow alleyways and she screamed in delight. Clinging tighter to his waist, she craned her neck past his long dreads. There were old ladies chatting and children running around and donkeys pulling wooden carts of discarded food. She closed her eyes for a few moments and looked skyward; she could feel the rain on her face and let down her hair. Idriss, apparently something of a local celebrity, would stop about every five people to say hello to someone he knew, and she beamed when he introduced her. The main plaza was still milling with people about the night market with bright lights and snake charmers. It was hard to contain her giddiness.
She was exhausted when they finally returned home. They stopped for a drink at a local stand and she sipped on the thick, sweet juice. Retiring to her room, bab el khemish, she undressed and sat in her alcove, counting the stars in French.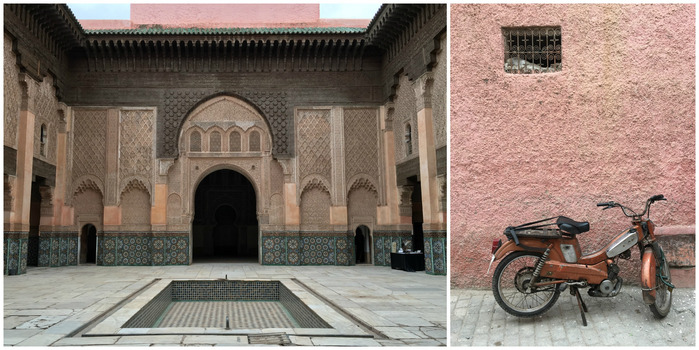 CINQUE TERRE
alla marina: to the sea
SAINT-CERNIN
It was Bastille Day in the South of France. She and Lucia had already walked several kilometers during a record-breaking heat wave and they couldn't will themselves to go much further. Dawdling, they stuck out their thumbs and to their surprise, the first car they saw pulled over. A woman was going into the next town to meet her husband and offered to take them; they piled in back like school children and stumbled upon a little flea market. For just a few euro, she found a vintage stamp set and a pocket knife inlaid with mother of pearl.
The next day after work, they walked to a different town and decided to try their luck again. Sure enough, a young couple picked them up and took them back to the farm. They bartered with produce and the following day, the girl's father ended up giving them a ride. He told them the tomatoes were the talk of dinner. Saint-Cernin had a population of about 100 people, so word traveled fast about the farm girls. Over the next couple of weeks, they would hitchhike over 150 kilometers and meet both locals as well as people on holiday, conversing in a mix of French, English and hand gestures.
Farm life was good for her. She liked waking up before sunrise, eating breakfast avec le chien et les chats. She wasn't typically a cat person, but one of the cats took an instant liking to her and they would have conversations, meowing back and forth. When she lay down in the fields, the cat would crawl on the bib of her overalls and they'd fall asleep together. On more languorous afternoons, the girls would bike down to the stream with a picnic - fresh heirloom tomatoes, du fromage and a baguette. They'd jump into the freezing water and quickly climb back out, lying in the hot sun. They did yoga looking out into the mountains and little butterflies would land on their fingertips and toes.
On Tuesdays and Thursdays, Jean-Luc took them into town to work the farmer's market. It felt so quaint to buy honey and meats from the other vendors and when they cooked their dinner, these little things felt like a treat.
CAPPADOCIA
fairy chimneys and rose-coloured ridges
AMERICA
White flurries danced outside the window and she focused on the din hum of train to track. Sometimes she sat perched at the glass staring at the cars, hoping someone would look up and meet her gaze, but no one ever did.
A solo cross-country train trip in the dead of January meant the Empire Builder route was vacant, giving her space to sprawl out. From Chicago to Seattle along the country's northernmost stretch, she watched the states fly by, blanketed in fresh snow. Amish and Mennonite families with their old-fashioned suitcases piled onboard; they had large hats and kept to themselves. The other passengers were a mix of older couples and some college kids on holiday. She kept herself busy by reading Junot Diaz's The Brief Wondrous Life of Oscar Wao and listening to her Amtrak Stories playlist, which consisted of mostly folk rock and eighties power ballads.
There were only patches of reception, allowing her to stay off the grid, which she liked. For meals in the dining car, taken by reservation only, the riders were seated with strangers. She was paired with Sam, a sweet stoner kid from Washington who was a baker. He used words like righteous and totally in a drawn-out manner and it suited him. She enjoyed his company. The waitress, Mary, had a loud laugh and snuck her free dessert.
While in transit, she fantasized about the perfect meet-cute: he'd be a writer, no, a carpenter, with a reddish beard. Maybe they were even reading the same book. But none of that happened, and instead, she found herself eavesdropping on an elderly couple near the door. Eavesdropping wasn't exactly the right word, because their phone conversation was loud enough for everyone to hear. She learned that their names were Gerald and Betty. He had the sweetest old man face. A few others chuckled and she thought that if she were ever to get married, maybe she wouldn't mind growing old and hard of hearing with someone.
Gerald: (shouting into a flip phone with great enthusiasm) WELL HI BOB, WE'RE JUST PASSING THROUGH MONTANA RIGHT NOW AND THE WEATHER IS JUST SNOWY AND WINDY AND WE'RE A LOT FARTHER FROM HOME NOW. I DON'T KNOW IF THERE'S MUCH MORE TO SAY, BOB. TAKE CARE! (after hanging up, he turned to his wife with regret) I DIDN'T ASK HIM HOW THE WEATHER WAS.
They were silent for a few minutes before he continued.
Gerald: OUT IN NO MAN'S LAND, RIGHT, BETTY?
Betty: (nods) You don't see many people. They must be in Florida or Arizona or California.
They got off the train a few towns later. She would arrive on the West Coast late the next day and the lyrics from one of her favourite songs would leave her humming; "let us be lovers we'll marry our fortunes together."